There are group classes for all ages and abilities.
Junior
Beginner and Intermediate Groups with classes are graded according to age and standard.  For ages 5 to 13.  Read the details here: Location Normanhurst Boys High School, Fraser Road, Normanhurst. 
Term 1, 2020 classes are held
Thursday(Junior/Intermediate) 3.30pm – 4.30pm  will commence 30th January 2020
Saturday(Junior) 09.30am – 10.30am  will commence 1st February 2020
Cost for Junior classes: $160.00 per term and $22.00 per casual lesson.
Squads
For Intermediate to Advanced players Ages 10 to 16 years.
Wednesday 5.30pm – 7.00pm will commence Term 1, 29th January 2020,  Mills Park Tennis Centre, Stratford Cl. Asquith.
Saturday 10.30am – 12.00pm will commence Term 1, 1st February 2020 Normanhurst Boys High school, Fraser Road, Normanhurst. 
Includes: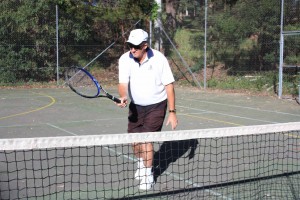 Full Stroke analysis
Junior Cardio workout
Match play
Cost: Only $205.00 per term.
Casual lessons $27.00